Contributed by Melissa Boufounos
C.H.N., Pn1 at MB Performance Nutrition
As an athlete, your nutrition leading up to race day is more important than race day nutrition. The three days prior to your race can have a significant impact on how you perform. And depending on where the race is, the three days before could be when you are traveling. So, what do we do?
Travel is not an excuse to take a hiatus from sound nutrition strategies. You absolutely CAN eat healthy on the go, it just requires a little bit of pre-planning to ensure success. You'll feel better, have more energy and as a result, and perform better come race day.
We will split this article into two overarching sections: how you can plan ahead before arrival, and what you can do upon arrival to keep you on track!
Plan Ahead
Don't wait until you're starving to make food choices, as this will almost always lead to bad decisions. Plan ahead so you don't have to rely on your willpower (and proximity to food) to keep you on track.
Traveling by Airplane
If you are flying to a race, you will be a bit more limited for what you can pack, but there is a surprisingly long list of food you can pack in your carry on for healthy eating on the go.
You won't be able to pack liquid food but almost anything else can be brought onto the plane. You can even bring an empty travel mug with you with a selection of tea bags or packs of instant coffee or hot chocolate to enjoy during your flight.
Here's what we packed for our last flight:
100% grass-fed all-natural beef jerky
Sliced vegetables (in a Ziplock bag) with hummus (in individual portion size containers as they have to be less than 3.4 oz)
A gluten free, non-dairy burrito that I pre-cooked, wrapped in parchment paper and put in a Ziplock bag
Apples
Orange slices in a Ziplock bag
Homemade trail mix made with: raw almonds, pistachios, cashews, pumpkin seeds, sesame seeds, carob chips and dried cranberries. (Note: We didn't use any peanuts in our mix, which was great since we had someone with a severe peanut allergy on our flight and wouldn't have been able to eat the trail mix otherwise!)
Shredded cooked chicken in a Ziplock bag
Mini granola bars
Individual packs of oatmeal also make a great simple meal you can eat once you get through security or on the plane. Just ask for a cup of hot water and add the oatmeal pack to it. Pack a sandwich bag with some nuts and seeds, dried fruit and shredded coconut to top your oatmeal with. Bring an empty water bottle with you and fill it with water once you get through security. 
Just make sure you finish any fruits and veggies before you land, or you'll have to declare them and/or throw them out!
In your checked luggage, you can pack some additional food options. For example, if you can't consume dairy and you don't know if you'll find almond milk, pack a shelf stable container of almond or coconut milk. (Bonus points if you pack a shaker cup and individual sized packets of your favorite protein powder!)
I always recommend traveling with a greens powder to stay on top of fruit and veggie intake if finding fresh options is going to be difficult.
Traveling by Car
Bring a cooler with you so you can have snacks while on the road and the ability to keep food refrigerated all weekend when you get to your destination. We love our Mobicool Power Cooler that can be powered by 12V DC or 120V AC. We can plug it in for the car ride and then when we get to our campground or hotel room, it can be plugged in there. It goes on every road trip with us, even if we're just going to the cottage for the weekend!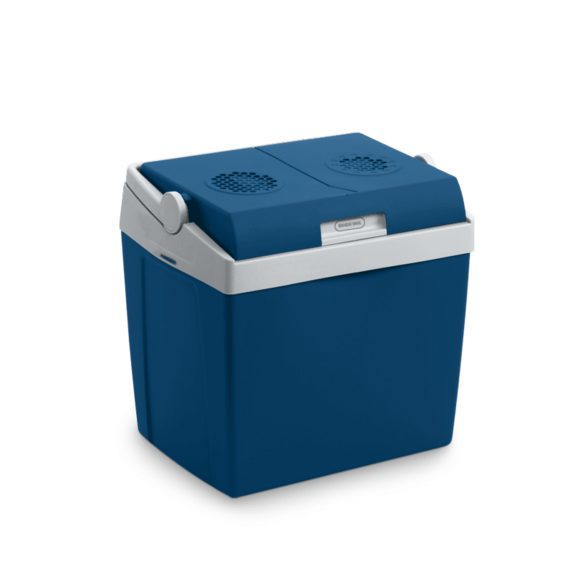 When you travel with a cooler, you are open to all new possibilities of food you can travel with:
Veggies with hummus
Sliced or whole apples with nut butter or sun butter
Fruit (watermelon slices are amazing after a race!)
Smoothies
Sandwiches or wraps
String cheese or cheese cubes
Cut-up rotisserie chicken
Hard boiled eggs
Keep it as simple as possible by pre-cutting and pre-measuring food into individual portions before you travel.
Camping
If you are camping, bring a small propane camp stove, a frying pan, a pot and some plastic dishes and utensils.
We don't travel with any raw meat or uncooked grains as they're too much of a hassle to cook from scratch, so the day before we leave we do a small meal prep and cook up some ground meat, cook some rice or quinoa, and chop up veggies and fruit. One of our favorite race weekend meals is mixing ground meat with salsa and rice with some lightly steamed veggies and half an avocado on the side!
Hotel
Ideally, try and book a place that has a full kitchen so you're not limited to what you can microwave. But if this is not an option, when you book your hotel ask for a room with a microwave and a fridge if available. This way you can bring full meals with you and just re-heat them. Ask the hotel if they will be able to supply you with glass dishes and utensils in case you buy food that needs to be cooked because often, food packaging can't go in the microwave.
Upon Arrival
Whether you are flying or driving, the first thing you should look for when you arrive at your destination is a grocery store!
Camping
Knowing there is a grocery store close to where you're camping allows you to pack less with you and save space in your vehicle. This is especially important if you're crossing any international borders, because it is generally not allowed to cross borders with produce and meat.
Hotel
If you're limited to a microwave you won't be doing any cooking from scratch, so plan your grocery shopping trip accordingly and make sure the foods you purchase can be heated by microwave.
With a little creative planning, you can keep your nutrition on track, and save yourself a bundle or money you would have otherwise spent on pricey (and often unhealthy) travel food and snacks. The key is to keep things as simple as possible during your race weekend so that you're not tempted to opt for take out instead. Good luck and happy racing! 
About the author:

Melissa Boufounos is a Certified Holistic Nutritionist and the founder of

MB Performance Nutrition

. She helps OCR athletes recover faster and perform better so they can improve their race times. Melissa is the Official Nutritionist of OCRWC 2018.

 

If you'd like to optimize your performance, MB Performance Nutrition is offering Fierce Gear OCR followers a 20% discount on the OCR Peak Performance Program.
Check Out Our Website Here 
Check Out Our Facebook Here
Check Out Our Instagram Here